It's time FOR A CLIMATE STRIKE
The adult generations have promised to stop the climate crisis,
but they have skipped their homework year after year.
Climate strike is a wake-up call to our own generation.
And it is the start of a network that will solve the greatest challenge in human history.
Together. We need your hands and hearts and smarts!
a sustainable world – for everyone
"I will not beg the world leaders to take care for our future I will instead let them know that the change is coming whether they like it or not." – Greta Thunberg

We want governments, public and private sectors on an open roadmap for transition to Clean & Renewable Energy.

We demand an immediate halt in fossil fuel exploration and complete removal of fossil fuel subsidies.

Help Climate Change victims. We know Climate Crisis is mainly caused by rich people and mostly suffered by the poor.
skip school & organize a climate STRIKE
Skip School and urge the your school administration, or regional / federal government to divest from Fossil Fuel.
The technology for a 100% fossil free future is already available, we need action and implementation.
Go Out and make yourself heard:
Organise / Join an event for climate. Various local groups have been organizing climate strike around the world, some include. Fridays for Future, School Strike for Climate, if there aren't any in your area, you can use these ideas.
Currently there are 3 Trillion trees around the world, but Additional 1 Trillion Trees can help bridge the Paris ambition gap.

Download the Plant-for-the-Planet App, plant trees and invite your friends.
Sing For the Climate is a worldwide singing manifestation. More powerful than a petition, and more accessible than a demonstration.
In 48 countries and in 577 cities, 401.099 people already sang 'Do it now'!
At the Global Youth Summit in May 2015, we came up with the idea of a global school strike for climate action.
We have seen our politicians not doing their homework for years. They promised to avoid dangerous climate change, but they never delivered.
After a few meetings with participants from five continents it became clear that a global school strike would have transformative power by bringing thousands – or even millions – into an empowering global network while acting locally.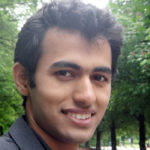 Sagar
I'm 21-year-old climate activist from Nepal. I founded Sano Sansar Initiativein 2006 to work for a sustainable future.